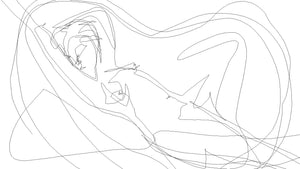 Graham Fink Eye Drawing series "Nude 1"
Regular price $1,536.00 Sale
Print on paper A3 Eye Drawing 2022 Signed ed 8 GRAHAM FINK – DRAWING WITH MY EYES. -------------------------------------------------------------- Multimedia artist, Graham Fink, has been working with Eye Tracking technology for the past decade. He initially designed a piece of software in conjunction with Tobii, the world leaders in Eye Tracking technology, to create drawings just by using his eyes. HOW IT WORKS: The technology works by shining infra-red light directly into his eyes. The reflections are recorded by a camera in the eye tracker through multi-algorithms and filters which allow eye movement to immediately be translated onto a screen. Once the process is started the artist moves his eyes around the screen and the line follows. There are no breaks (even if he blinks) so the drawing is one continuous line.