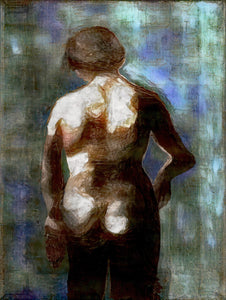 OXIA PALUS "STANDING FEMALE NUDE – VINCENT VAN GOGH
Regular price $10,240.00 Sale
Dimensions: 50cmx30 cm
Medium: NeoMaster Painting on Canvas
1/8 signed

The study 

Rehabilitation of a flower still life in the Kröller-Müller Museum and a lost Antwerp painting by Van Gogh (2012) 

revealed an X-ray of the 1886 painting of 

Still life with meadow flowers and roses (1886). 

Hiding an unusual painting for Van Gogh, two wrestlers. Van Gogh referenced this painting in a vein that indicates that it was a subject that he enjoys painting.   

"

This week I painted a large thing with two nude torsos – two wrestlers […] and I really like doing that" – Vincent to his brother, Theo, in a letter in January 1886.   On display Sept 1-4 202 at the Focus Art Fair at the Louvre.