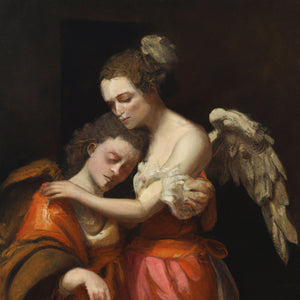 OXIA PALUS "CUPID and PSYCHE"
Price on request


Cupid and Psyche - A Diego Velázquez TextMaster. 1/1.
The Rokeby Venus is one of Diego Velázquez' most infamous paintings, not only because it is his only surviving nude, but also because the motif was officially discouraged by the Spanish Inquisition. Three other nudes by the artist are however recorded in 17th-century Spanish inventories, but with no surviving visual representation. Velázquez painted two nudes for the Hall of Mirrors in Madrid's Royal Alcázar Palace, namely 'Cupid and Psyche and 'Venus and Adonis', but both were lost in the Royal Alcázar Fire on 24th December 1734. By combining textual research and DALL·E 2, we present the world's first AI resurrection of Velázquez' 'Cupid and Psyche', nearly 300 years after its destruction.
Our previous NeoMasters™ work resurrecting lost artwork combines the technologies of spectroscopic imaging, artificial intelligence, and 3D printing to recreate lost artwork that an artist has painted over. To coincide with the release of our latest NeoMasters™at Focus Art Fair in the Louvre, 1-4th September, we're releasing a world first as NFTs on KnownOrigin, namely TextMasters.
TextMasters are of a fundamentally different nature to NeoMasters™, stemming from archived textual records of destroyed artwork where no visual record exists. The first TextMasters release includes destroyed and missing works from the world's most famous artist, such as Leonardo da Vinci, Johannes Vermeer, Giotto di Bondone, Diego Velázquez, Tintoretto, Sandro Botticelli, Titian and Eugène Delacroix. Whilst there exists an infinite range of possibilities as to the original work, all TextMasters are released as 1/1, with only one TextMaster ever generated for a particular lost work.
1 ETH
https://knownorigin.io/gallery/16407000-cupid-and-psyche