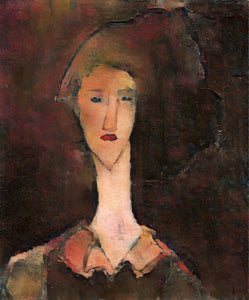 OXIA PALUS "Portrait of a girl"
Regular price £16,000.00 Sale
Medium: NeoMaster Painting on Canvas
Edition Size: 8
Dimensions: 67 x 80.6 cm
Amedeo Modigliani's 'Portrait of a Girl' (1917) is currently held at the Tate in London, but hidden beneath this painting is the figure of a woman, that researchers have concluded, is Modigliani's ex-lover, Beatrice Hastings.
The couple had a tumultuous relationship ending in 1916. One year after their breakup, 'Portrait of a Girl' was completed. The timing suggests that Modigliani intentionally painted over his past girlfriend. Modigliani's 'Portrait of a Girl' was titled 'Mademoiselle Victoria' at the 1929 exhibition held at the Lefevre Gallery, but the identity of the model remains uncertain.
  Using spectroscopic imaging, artificial intelligence, and 3D printing Oxia Palus actualised the pentimento (the visible trace an earlier painting) of Modigliani's Portrait of a Girl (1917). Using a processed x-ray fluorescence image and a conditional GAN model – trained to map between x-ray like images Modigliani paintings – Oxia Palus reconstructed a lost masterpiece; Modigliani's Beatrice Hastings – the world's second NeoMaster™.